We never ask for advance payment. Make payment only after delivery via cash/card. For query call @ 7700000770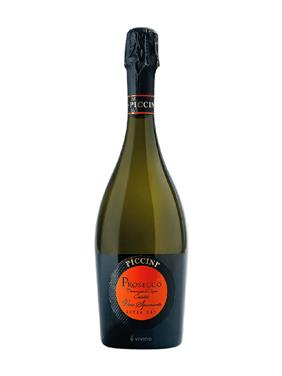 SPARKLING
PICCINI PROSECCO DOC VINO SPUMANTE EXTRA DRY
Intense fruity with rich scents of apple, lemon
and grapefruit. A pronounced aroma of wisteria in bloom and acacia flowers. The
floral aromas clash with a pleasantly bitter citrus rind note that is inherent
in Prosecco grape (glera). Vivid and fresh, with a fine, persistent
perlage.Prosecco is a fantastic wine food. Fantastic with antipasti, from
olives to aged cheeses to roasted peppers or marinated artichokes. Wonderful
with freshwater fish and sea food. Because it is so easy to pair with food,
Prosecco is a wine to summer up your day all year around.
Tasting Notes
Intense fruity with rich scents of apple, lemon and grapefruit. A pronounced aroma of wisteria in bloom and acacia flowers. The floral aromas clash with a pleasantly bitter citrus rind note that is inherent in Prosecco grape (glera). Vivid and fresh, with a fine, persistent perlage.Prosecco is a fantastic wine food. Fantastic with antipasti, from olives to aged cheeses to roasted peppers or marinated artichokes. Wonderful with freshwater fish and sea food. Because it is so easy to pair with food, Prosecco is a wine to summer up your day all year around
| | |
| --- | --- |
| COUNTRY | ITALY |
| GRAPE | GLERA |
| SIZE | 750ML |
| REGION | VENETO - ITALY |
| BRAND | PICCINI |
| STYLE | MEDIUM BODIED |
| TYPES | SPARKLING WINE |