We never ask for advance payment. Make payment only after delivery via cash/card. For query call @ 7700000770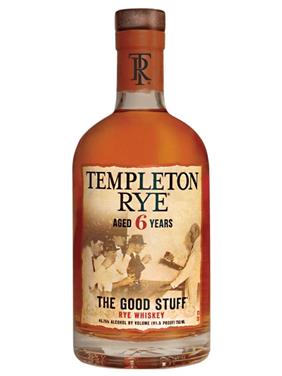 RYE WHISKEY
TEMPLETON RYE WHISKY 6 YEARS
Templeton was first introduced back in 2006 when the company released its first 4 year old sourced whiskey, which was based on a nearly century-old recipe developed by Alphonse Kerkhoff in Templeton, Iowa. Templeton Rye 6-Year Rye Whiskey was distilled from a recipe of 95% rye and 5% barley at MGP in Lawrenceburg, Indiana. Following its first release, the company quickly experienced its fair share of controversy after the company was the subject of a class-action lawsuit over alleged deceptive marketing practices. The 6-year expression, which was first released in 2016, is also distilled from the same recipe by MGP and the juice is sent to Templeton, Iowa, where the company adds their own proprietary formula and local purified water before bottling the whiskey at their facility.

Tasting Notes
Color : Light Copper
Nose : The nose is relatively simple, delivering the obvious rye spice that is expected from a 95% MGP rye, some dry herbal notes, along with notes of sweet caramel, vanilla, some toasted coconut, and a touch of smoky oak.
Palate :This rye has a relatively light mouthfeel and there is minimal rye spice and heat on the palate. Instead, the palate is dominated mostly by sweet notes, including vanilla, caramel, some crisp green apple, baking spice, and smoky oak.
Finish : The finish is undoubtedly the best part of this rye. It is medium-long with a nice combination of alcohol burn and rye spice. The heavier spicy notes are balanced by the sweetness of caramel, maraschino cherry, dry oak, and a few dill-like herbal notes that finish out the pour.
| | |
| --- | --- |
| SIZE | 750ML |
| COUNTRY | USA |
| REGION | Indiana |
| AGE | 6 YEAR OLD |